For just a little while, I had a room of my own.  My writing room.  The walls were brushed with the faintest silvery, smoky lilac.  A charcoal gray love-seat soaked up the afternoon sun coming in the one tall window.  Silver raw silk throw pillows complemented the thick brushed silver frames on the walls— three Chinese folk art pictures, each with shades of winter, coolness.  The raw silk curtains were a deep plum.  My desk was a simple, small writing desk with one drawer and thin, shapely dark brown legs.   There was a narrow corner bookcase holding all my reference materials, books on craft, and favorite novels and poetry collections.  A light gray carpet with modern white swirls warmed the floor, and there was a dark chest of drawers on which sat a scented candle.  Above it hung a square, black iron-framed mirror.
Utter luxury.  Decadence.  A sanctuary.  Each time I stepped into it and shut the door, I almost couldn't believe it was for me.  In the early mornings I would enter with my coffee, turn on just one lamp, pull the soft fleece of the throw around my lap and spend time in prayer, reading Scripture, and journaling.  Some afternoons I would sneak in there for a half-hour nap curled up on the love-seat in a sunbeam.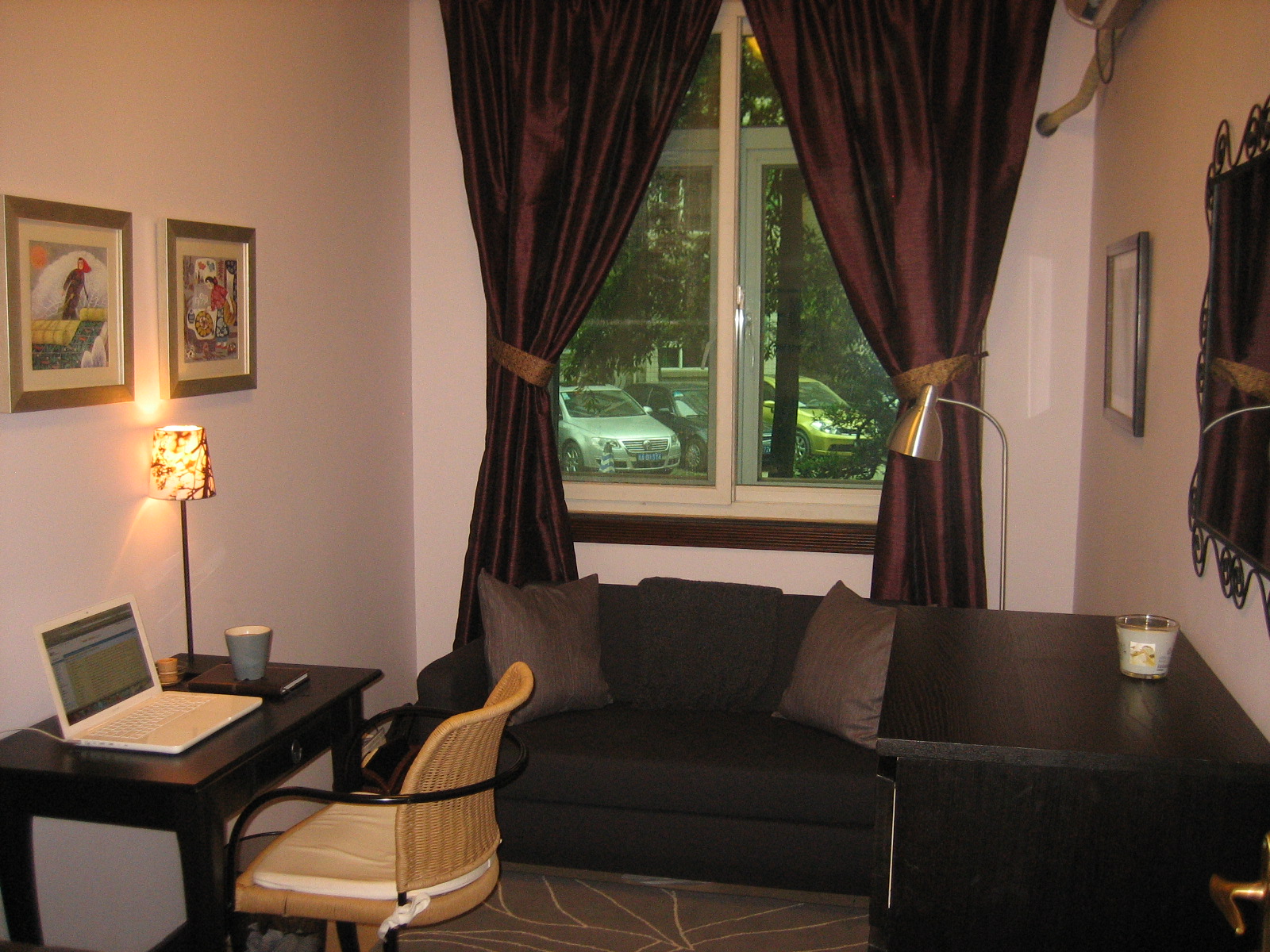 And I wrote in there.  I composed poems, birthed (that's what it felt like) chapters of a novel, edited, prepared submissions to literary journals, and read for inspiration and for help with craft.  I kept small squares of dark chocolate in the tiny drawer of my desk and ate one or two each evening I worked in there.  The hours I spent in the soft light working, Springsteen or Van Morrison or Patty Griffin crooning through my earphones, passed as quickly as a breath.  It was always hard to put things away and walk out.
I had a room of my own.  But just after designating it as such, and setting it up to my taste, we took in an eight-month-old Chinese foster baby named Lei Lei.  It quickly became apparent that his sleep schedule and our 8-year-old son's were incompatible, so we had to move him from my son's room to my writing room for naps and nighttime sleep.  I was okay with that.  Sometimes when I needed to use the room at night, we would put him to sleep in our bedroom, moving him back into the small room when I was finished.  We said goodbye to Lei Lei just over one year after taking him in, handing him off to his forever family.  The year with him flew by.
I could use my room now.  But now, with the pleasure of it, there was a small emptiness, too.  His little arms hugged my neck tightly each night before I used to lay him down to sleep in there.  My time was much more my own, and while I relished aspects of that, I also missed kissing the indent just above his flat little nose.  I missed opening the door to that room in the morning and seeing his happy little face, his eyes disappearing into apostrophes when he saw me and reached for me.
I used that room as my writing sanctuary for eight more months.  Each time I felt the significance of the gift that it was.  I thought I would have it for many more years, but then we were surprised by one of life's curveballs and we found ourselves packing up our lives in China to return to the U.S.  As the one "non-essential" room in the apartment, it was the first to be dismantled and used as a storage room for our shipment boxes and suitcases.  I sold off each piece of furniture in it, feeling the sharpest pang inside when my desk was sold and carried out.
When would I have another room of my own?  Would it be possible, in our new home, to carve out even a little writing "nook?"  That question is still unanswered.  We lived with my in-laws for six months and have since been living for five months in a rented house.  Our house-hunt is about to begin for a place we can settle into and call home for a long, long time (we hope).  I don't know if it will have a space for me to make room for my writing.  I'm hoping, but trying not to hang onto that dream too tightly.   The luxury of a room of my own is something I feel needs to happen without heavy striving on my part.  I need to feel like I am receiving it as a gift; it isn't something that I can demand.  I'm praying for a heart that is content with simplicity, a heart that is astonished at the blessings bestowed on it by the Giver of all good gifts.  In this day and culture, we—women especially—are encouraged to go out and grab what we want from life.  We're told that we deserve it and shouldn't let anything stand in our way.  But for those of us who follow the footsteps that led to a cross on a hill, we're learning to trust in the goodness of the pierced hands that give and take away, that understand the seasons of life better than we do.
I loved my silver and purple room.  I hope I get another one.  But I trust that when it's time it will be obvious, a gift given into my lap.  Until I have a room for my writing again, my job is to make room in my life to keep writing.  So here I am at Panera on a Saturday night, with cold toes and just-ok coffee, my computer, notebook and a couple of writing resources spread out on the booth table, trying to figure out how to make a trip to the restroom without having my stuff stolen.  Right now this is as good as it gets, and I'm writing on.