Many of us are closing down 2016 with a keen awareness of the darkness all around us in the world today—a bitter and divisive election that exposed a great deal of ugliness in our nation and perhaps even in ourselves; world events that stagger us in their brutality even as we want to look away—Aleppo, the global refugee crisis, Yemen, South Sudan; and closer to home for us here in Baltimore, the grim statistic of more than 300 homicides in the city this year. As you read this, I'm sure you could add more items to this dark list.
I recently re-read the chapter in Frederick Buechner's Secrets in the Dark: A Life in Sermons, titled "Come and See." I'm going to quote this essay at length today. He says this:
If darkness is meant to suggest a world where nobody can see very well—either themselves, or each other, or where they are heading, or even where they are standing at the moment; if darkness is meant to convey a sense of uncertainty, of being lost, of being afraid; if darkness suggests conflict, conflict between races, between nations, between individuals all pretty much out for themselves when you come right down to it; then we live in a world that knows much about darkness.
What do we do, then, with these words from the prophet Isaiah: "The people who walked in darkness have seen a great light; those who dwelt in a land of deep darkness, on them has light shined" (Isaiah 9:2)? How do we understand these words in their past-tense proclamation?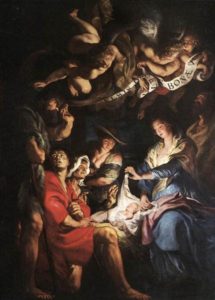 Has something like this really happened? Something that included angels too many to count singing to ignoble shepherds, that included wise men and a strange new star?
Buechner writes, "…let us be as skeptical as our age about this story of Christmas. Let us assume that if we had been there that night when he was born, we would have seen nothing untoward at all….the woman in labor….the smell of hay….the lonely barking of a dog." He goes on to say:
Whether there were ten million angels there or just the woman herself and her husband when that child was born, the whole course of history was changed. That is a fact as hard and blunt as any fact. Art, music, literature, our culture itself, our political institutions, our whole understanding of ourselves and our world—it is impossible to conceive of how differently world history would have developed if that child had not been born.
Besides all that, all through the ages since that event people from every walk of life and corner of the globe have "found themselves in deep and private ways healed and transformed by their relationships with him"—made whole.
How do we find out for ourselves whether in this child born so long ago there really is the power to give us a new kind of life in which both suffering and joy are immeasurably deepened, a new kind of life in which little by little we begin to be able to love even our friends, at moments maybe even our enemies, maybe at last even ourselves, even God?
 Adeste fidelis. That is the only answer I know for people who want to find out whether or not this is true. Come all ye faithful, and all ye who would like to be faithful if only you could, all ye who walk in darkness and hunger for light. Have faith enough, hope enough, despair enough, foolishness enough at least to draw near to see for yourselves….Pray for him and see if he comes, in ways that only you will recognize….In whatever way seems right to you and at whatever time, come to him with your empty hands.
Come and see. Come with your doubting in your throat and your last slip of hope tattered by harsh winds. Come see if this outrageous story you deep-down wish could be true—God come down to you, to me— can be the light that dispels your darkness, can even make you light in the darkness.
I wrote the poem below a couple of years ago, for Advent. "If we are people who pray, darkness is apt to be a lot of what our prayers are about. If we are people who do not pray, it is apt to be darkness in one form or another that has stopped our mouths." If it helps, read it as a prayer.
The Branch of Your Planting
Isaiah 60: 19-22
We are the branch of your planting,
grasping the earth
until it is too much with us:
soil on our leaves, arching petals
into cups to hoard the rain.
We are cut and grafted,
withered, unyielding, broken
even as we bloom another
improbable blossom.
We are the hidden, dying seeds,
trembling in our casings
with desire for glory: ours
and yours. And you promise it
and much else besides.
Hasten it in its time.
Because we mourn in exile here,
striving with unclean hands raised
toward heaven to grasp at your coming
or waiting silently with this dirt
ground deep into the lines
of our upturned palms,
all of us whispering
Come, come.