I don't know many writers who only read one book at a time. (If you are one who does, I'd be fascinated to make your acquaintance and would try to question you about the reasoning behind your reading practice without making you feel as if you were a specimen under a microscope.)
I have piles, you see. 
There is a pile on the glass-topped elephant table in my bedroom, next to my favorite chair of all time. It includes my Bible, Dave Harrity's Making Manifest: On Faith, Creativity, and the Kingdom at Hand, Oswald Chambers' My Utmost for His Highest, and Bearing the Mystery, a collection of twenty years' of some of the best works published in Image journal.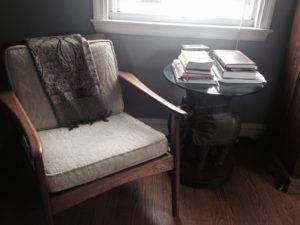 On the tiered side table in the living room I have The Poems of Richard Wilbur and A Year with Dietrich Bonhoeffer, along with the last several volumes of Poets & Writers magazine and Writer's Digest. The Book Thief was there until this past weekend, when my kids stole it to read after we watched the movie together. (Digression: this is one of my favorite books, and I was skeptical about the movie, but it captured the soul of the book & of the characters better than I expected.)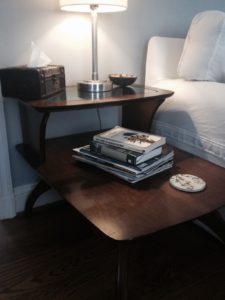 My "library pile" on my bookshelf to the right of my desk has Letters Across the Divide: Two Friends Explore Racism, Friendship, and Faith, Francis Schaeffer's classic, Escape from Reason, and Thomas Merton's The Springs of Contemplation. (No more pics of piles, because I don't have time to straighten up the mess & wipe the dust off any more surfaces with my hand.)
And on the coffee table are Bill Bryson's Notes from a Small Island (to counter-balance the weightier tomes), and the one I find myself reaching for most often this week: Compassion—A Reflection on the Christian Life (Nouwen, McNeill, and Morrison). I found it in that thrift-store gem, Savers, a couple of weeks ago. A few thought-provoking quotes:
On a communal understanding of compassion: "Compassion is not an individual character trait, a personal attitude, or a special talent, but a way of living together."
On massive exposure to human misery: "When we are no longer able to recognize suffering persons as fellow human beings, their pain evokes more disgust and anger than compassion …. Anne Frank we can understand; piles of human flesh only make us sick."
On our response to suffering: "Therefore, the question is, how can we see the suffering in our world and be moved to compassion as Jesus was moved when he saw a great crowd of people without food …. This question has become very urgent at a time when we see so much and are moved so little."
If I don't have a pile of ready reading within reach in each room of the house, I feel itchy and unprepared. When I have a ten-minute span of time between finishing an editing job and starting dinner, I grab the nearest book (and push nagging reminders about wet laundry aside). When the kids are taking an extra-long time getting ready for bed, I plop down on mine with a book and a prayer that they'll keep dawdling.
I can't do without my piles. With my husband's influence, I've mended my pack-rat ways in most areas, but don't ask me to part with my books. (I know some of you reading this get me. We're a tribe.)
Finally, a list of books I keep coming back to:
The Inheritance of Loss by Kiran Desai
Housekeeping by Marilynne Robinson
The Hungry Tide by Amitav Ghosh
The Sun Also Rises by Ernest Hemingway
Anything by Frederick Buechner (wrote about him more here) or Brennan Manning
The New Jim Crow—Mass Incarceration in the Age of Colorblindness by Michelle Alexander (please read this)
What titles are in your piles, and where do you stash them?